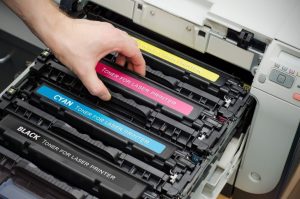 Even in today's digital world, printers are still an important tool for many organizations. Many people simply prefer to have a hard copy of a document in their hands. For this reason, printers aren't going away anytime soon. Therefore, it's crucial that you're able to use your printer for as long as possible. We offer valuable tips about extending the life of your printer and avoiding excessive printer repair in Vienna, VA.
Use a Printer Jacket
Dust and dirt can seem harmless, but they can cause significant damage when allowed to accumulate on or in your printer. The best way to combat dust buildup is to place a printer jacket around your printer when it's not being used.
Keep it Clean
If dust does happen to enter your printer, it shouldn't be ignored. You can simply use condensed air to blow away any particles that could jeopardize the performance of your printer.
Use the Right Paper
Using the right paper in your printer is equivalent to using the best fuel for your vehicle. The quality of the ingoing product significantly affects the performance of the machine. That's why it's vital to use the proper paper. This means using fresh paper that isn't bent, torn, or marked up. Additionally, it's a good idea to store your paper in a cool place to avoid unnecessary sticking between the sheets of paper.
Contact Gem Laser Express for more advice about printer repair and extending the lifespan of your printer. We can also help you save with a service contract.